Nelson artist Sean Garwood was chosen to travel to Antarctica at the end of November 2015 to sketch and photograph the historic huts of Robert Falcon Scott and Sir Ernest Shackleton by the Antarctica New Zealand and Antarctic Heritage Trust.
With his return to Nelson in December, Sean's task is to work full time on a collection of highly detailed oil paintings.
His focus is predominantly on the inside of the huts which contain a treasure trove of personal items belonging to these famous polar explorers.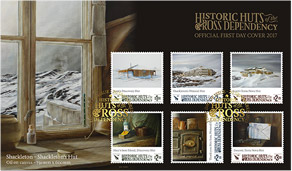 Find out about the NZPost's Historic Huts of the Ross Dependency stamp set featuring Sean's paintings.
Click here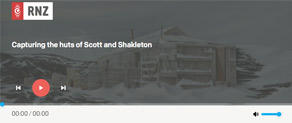 Listen to Sean talk to Kathryn Ryan about his oil painting project recording the intimate detail of life in the huts of Scott and Shakleton.
Click here

Interesting Links
www.antarcticanz.govt.nz
www.nzaht.org
www.antarctica.recollect.co.nz
www.sony.co.nz/electronics/cameras
Travel to Antarctica was supported by Antarctica New Zealand through the Community Engagement Programme.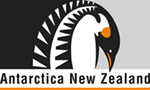 Small detail section of the painting the glorious "Jessie Logan".
Here we have a close up showing the bow wave of "Jessie logan". There's nothing more satisfying than painting a good bow wave. In a marine painting it is probably one of the most important features. If done properly it can give so much energy to the painting. The painting of "Jessie Logan" will be featured in the new Zealand's Maritime history exhibition in early 2021 to be held in Auckland.
Sneak peak at one of the marine paintings.
Here is a section of one of the marine paintings that will be on show at the exhibition. It has been steady progress with each painting taking on average seven weeks full time to complete. This is not including the research involved. The exhibition will include two paintings depicting New Zealand's proud history in sailing.
Front cover and feature story in the legendary Antarctic magazine " Antarctic".
New exhibition – maritime paintings.
I am now underway with a new exhibition that will feature maritime paintings. This is my preferred subject matter and one that I know very well having spent 28 years at sea. The next exhibition will be in Auckland in 3 years that will be a visual narrative covering the maritime history of New Zealand from the 1800s to early 1900s that may also include the war years. A tremendous amount of research is required with a number of people assisting including maritime historians and some very knowledgable people on the square rigged ships. The exhibition will also include port scenes. New Zealand has such a rich and diverse marine history and no wonder she is known world wide for her maritime prowess. I will endeavor to cover every maritime sector.
I will post regular images with updates on how the paintings are progressing.
The attached images are of the first painting that depicts New Zealander Frank Worsley taking one of the four sextant sights that enabled Shackletons "James Caird" to successfully reach South Georgia on the epic voyage from Elephant Island. Frank Worsley a New Zealand Master Mariner that richly deserves his place in New Zealand's maritime history.
Life after the Antarctic paintings
Here is the last painting that was almost completed before the Antarctic paintings. I must say painting old leather boots is very enjoyable. To create the rich leather  so you can almost smell it is the challenge. In this case the painting depicts a pair of  ladies boots from the Victorian era set in a scene of a old potting shed.
Please visit again for an update on my next exhibition and subjects.
Nice story about the Antarctic paintings and New Zealand Post stamps. Please click on the link.
Antarctic exhibition sell out
Thank you to everyone who attended the Antarctic exhibition. Yes, the exhibition sold out but the greatest pleasure was seeing peoples emotional response to the paintings. two people were moved to tears. The greatest reward an artist can have. Thank you.
The painting "Dearest" reproduced as a stamp in the NZ Post Historic Huts of the Ross Dependency 2017 stamp issue
The painting "Thank You Mrs Sam" reproduced as a stamp in the NZ Post Historic Huts of the Ross Dependency 2017 stamp issue