Nelson artist Sean Garwood was chosen to travel to Antarctica at the end of November 2015 to sketch and photograph the historic huts of Robert Falcon Scott and Sir Ernest Shackleton by the Antarctica New Zealand and Antarctic Heritage Trust.
With his return to Nelson in December, Sean's task is to work full time on a collection of highly detailed oil paintings.
His focus is predominantly on the inside of the huts which contain a treasure trove of personal items belonging to these famous polar explorers.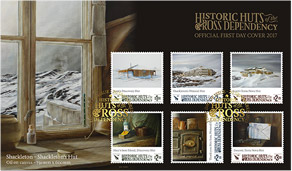 Find out about the NZPost's Historic Huts of the Ross Dependency stamp set featuring Sean's paintings.
Click here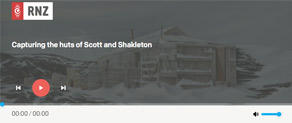 Listen to Sean talk to Kathryn Ryan about his oil painting project recording the intimate detail of life in the huts of Scott and Shakleton.
Click here

Interesting Links
www.antarcticanz.govt.nz
www.nzaht.org
www.antarctica.recollect.co.nz
www.sony.co.nz/electronics/cameras
Travel to Antarctica was supported by Antarctica New Zealand through the Community Engagement Programme.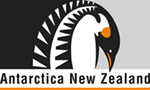 Video – Studio update.
Helicopter and Cape Royd's
After the visit to Scott's Terra Nova hut at Cape Even's we made our way back to Scott Base. By this time I was feeling quite jaded after working around the clock gathering as much photographic material as possible. Immediately after arriving back at Scott Base the thoughts of a break were quickly short lived. A meeting with logistics staff confirmed that we were heading to Cape Royd's the following day. Fatigued no more as adrenalin kicks in and preparations for the trip are quickly underway.
Shackleton's Nimrod hut is situated at Cape Royd's which is a volcanic out crop from Mount Erebus and only 11 km North of Cape Even's where Scott's Hut is situated. However because of the Mc Murdo Sound sea ice breaking up, the only way to reach the hut is by helicopter. Nichy Brown is traveling with me as support and guide. Amazing person. Super experienced and already has every thing under control for our trip tomorrow.
The flight to Cape Royd's was in near perfect visibility. Flying over Cape Even's and Cape Royd's certainly put everything into geographical perspective. I will never forget flying over both Capes.
Beautiful texture
I like to photograph close focus and here are a few more examples. I also like to capture the texture. I must have taken around two thousand photographs but here a few more that caught my eye.
Treasure Trove
Scotts hut is an absolute treasure trove of objects and personal items that very quickly became the focus of my paintings. So many potential painting subjects. Oh boy where to start ! Im thinking "Take it easy Sean, you have one shot at this so get on with your plan instead of racing around like a chook with its head chopped off".
So, after the emotions settled down, the plan was to gradually work around the hut one area at a time and then focus in on the potential subjects. This was going to be challenging. Its dark, cold and very eerie. As I set about my work the detail of individual items began to emerge. This is when you have to keep your emotions in check as its about as close as you can possibly be to these remarkable men.
The old leather boots with creases and folds in the leather. So personal like a second skin. Who did they belong to? Tin mugs, Toothbrushes, sewing kits.
What really got hold of me was the chain hanging up that was used to tether the dogs. It felt very sad. They are our loyal companions and this simple chain reminded me they were here to serve their masters once again in the the most hostile place on Earth.
My thoughts as I entered Scott's Terra Nova hut
Some parts of the building were very dark and then there were pockets of light where the bright sunshine was streaming through the small windows which high lighted certain parts of the hut. There was no colour. Very subdued. The scene was sad and oppressive. The silence, yes the silence just the sound of the odd Skua which is not exactly the most elegent bird call. Almost Crow like. The absolute quiet. It's cold.
Running through my head are the stories of hardship and death. You get the scene. Then I begin to focus on the thousands of artifacts that will become my focus of attention. The sadness within this place is everywhere. They ( the men) were here, definitely here. Its strange, I don't think so much about Scott but "Birdie" Bowers enters my head again. I think its because he was a strong character and quite recognisable with his big nose. As though he is still here, because the hut is like a time capsule. Maybe he has gone for a walk. He has gone, but his spirit is still here close by.
Once I got to know the hut I felt better. Scott was here for a reason, not only to reach the South Pole. The way the hut was set up allowed for numerous scientific research projects and other projects for the good of exploration and research. It seemed every square inch of the hut had a purpose.
Arriving at Scotts Terra Nova hut
I finally made it. Im here at last. As the we approached Cape Evans, I couldn't see the hut as it seemed to blend in against the black volcanic rock. Then there she was. Dwarfed by the mighty Mt Erebus.
My first impression was that the hut didn't belong here in a odd sought of way. I think it was because there is absolutely nothing here, no hint of civilization at all and one simply doesn't expect to see any hint of civilisation. Then I see the hut, looking forlorn and lonely, but at the same time a powerful monument that represents the spirit of adventure and the men of men who sacrificed so much to lay the foundation for science and exploration in this continent as we know it today.
The trip across Mc Murdo Sound sea ice to Cape Evans
With the Antarctic field training now complete it was time to think about visiting the historic huts. The weather forecast looks brilliant so tomorrow is the day we head out to Scotts Terra Nova hut which is situated 35 km North of Scott Base at Cape Evans.
The mode of transport will be by Hagglunds. The two hour trip from Scott Base to Cape Evans takes us across the sea ice in Mc Murdo Sound. Get this, the sea ice is only 2 meters thick and is still safe to travel over in the Hagglund's when only 600mm thick. Cape Evans is one of the many spurs of land that protrude out from Mt Erebus.
Just me and Mt Erebus
As part of the Antarctic field training, one must dig oneself a snow trench. Then have a sleep, yes have a sleep. That was never going to happen, for me at least anyway. So broad daylight at 0200 hrs, I am thinking, this is a total waste of time, I can be sketching Mt Erebus. So out I pop which must have looked funny from afar seeing this orange thing emerge from the ice.
Without further ado, I grab the sketch book and start sketching Mt Erebus. Now how much better can it get than this. At 0200 hrs and not a sound, just me and Mt Erebus. All that was required now was a tot of Rum. How cool is that, 0200 hrs and sketching Mt Erebus
Incidently, Mt Erebus and its neighbour Mt Terra were named by James Clarke Ross who discovered the Ross sea and Ross Ice Shelf. This was some 75 years before the arrival of Scott and Shackleton. Erebus and Terra were the names of his ships he used for this the expedition.
Antarctic Field training
This place can be hostile and dangerous!
30 hours of survival training was enough to make me realise that Antarctica is no place for fools. The weather can change so rapidly. Antarctica New Zealand and the field trainers at Scott Base are totally committed to preparing everyone venturing out into the field. This is no holiday!
Destination – Antarctica
The day has finally arrived!
After clearing customs we head out to the tarmac on a fine warm Christchurch morning. The moment I get a glimpse of the somewhat daunting looking South African Hercules is ,"yes I am heading South to Antarctica."
We board the plane in our multi-layered Antarctic kit which was fitted yesterday. Before being seated, a brown paper bag was thrust in my hands by a smiling burley South African that contained all sorts of goodies for the flight. After getting use to the shaking and shuddering of the old Hercules, the eight hour flight was quite pleasant.
I still couldn't get those damn ear plugs to stay in. I noticed that I was the only one suffering from this rather annoying practice of trying to relocate the plug so they didn't fall out again. It must have looked as though I was constantly trying to shove a finger in my ear to give them a good clean! The plane was only half full with four Kiwis and the rest American. Fortunately, we had windows which enabled me to take a look at the sea ice developing as we approached the Sub Antarctic.
Then a short time later, there she was in all her glory, Antarctica. Absolutely stunning. We flew down the line of the Trans Antarctic Mountain Range on the approaches to Ross Island and Scott Base.
After landing the first thing I notice is the rush of cold air. A quick obligatory photo of the old Hercules and off we trundle to Scott Base where we are warmly greeted by Scott Base administration. After refreshments it was a a very comprehensive tour of Scott Base and induction. My first thoughts are "this is one hell of a professional outfit." The plan tomorrow – Antarctic Field Training.